Read What Our Clients Say About Us
I can't express how thankful I am for Off Leash training. It was completely worth the investment for my dog, Holden. He's always been a runner if he got out & wouldn't come when I called. Not only is that frustrating, but it's dangerous. After completing Basic & Advanced classes, Holden is a different dog. He's learned commands, understands what I want him to do and can now walk Off Leash!! I'm so impressed and amazed!! I never thought he'd be able to go anywhere without being leashed! That makes us both happy!
JJ R.
// Verified Google Review
Off Leash has had amazing results with my dog, Chester. After the very first lesson he mastered "come" and "sit." Now I can actually tell him to sit in a place of my choosing and he will stay there, regardless of distractions, until I give him the release command. The training method is easy to follow and works great. After trying other classes and methods of training, I can absolutely say that Off Leash K9 makes training easier and more effective than anything else I have ever seen.
Brad C.
// Verified Google Review
I can not even begin to Thank OLK9 for the tools they have given me to help with my amazing guy! Diesel had a rough first few months (starved, very nervous around people and other dogs due to his "pack" bullying him before we got him, and being attacked at 4 months old by an Akita). At a loss of how to help him, OLK9 was recommended by a fellow GSD owner.
[They] have helped him (and me) so much! He loves going to class and learning. They have been a godsend, we have finally gained our self confidence that was pushed down by past. He is soaring through class and life now!
If you need help with your puppy/dog I highly recommend OLK9. You will quickly see they are the real deal!
Jillian B.
 // Verified Facebook Review
Our 1-year-old sweetheart Labradoodle Moose has always been a good boy, but was much too excited to pay attention and obey on a consistent basis. He is also a big boy, and could easily pull/push us down if he wanted to. His trainer has gone above and beyond for our basic and advanced training to ensure that Moose could fulfill all of his potential, and still keep his cute personality all the while. He is still in advanced training and heading towards doing mental health animal assisted therapy with me. I cannot imagine where we would be without Off Leash K-9 Training. It is well worth the time and money; we would recommend it to ANY and ALL dog owners.
Laurel J.
// Verified Google Review
I just recently had my dog go through the 2 week board and train program. Before my dog left he would not mind and was very disobedient. After the 2 week program my dog is now minding and obeying commands. From the pickup to the drop off, they kept me updated with videos and message updates on my dog, and went out of her way to help my dog and me. If you are looking for dog training look no farther than Off Leash K9 Training!
Ashton T.
// Verified Facebook Review
OLK9 did an amazing job with our GSD, Apollo, who turned 1 year old while in her care on a two-week board and train. Apollo is like a changed young man. Once wild and out of control, he now minds what we say. We got pupdates every day whether it was pictures or video. They were all amazing. Apollo was in great hands. We will use off leash training again. Thank you for the amazing experience!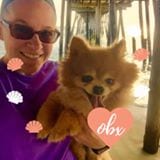 Jessika L.
// Verified Google Review
We used this training for our overly-rambunctious 1 year old Doberman – and it was so great. He weighs about 96 lbs so it was important to tone down his happiness when he greets people. He has excellent manners now. We just use the vibration mode and he responds immediately. Same with our female Cersei. We started Cersei on Personal Protection yesterday and it was so much fun to watch her confidence grow as she was trained to use her drive on command to protect us. This collar and training also helped us recall a Young Doberman we had bred when he went into high drive mode and wanted to go after an elk that had come out of the woods. I shudder to think what could've happened if that dog didn't have this collar and training – but instead – we were able to get him to immediately back off the elk and return to us so we could give the elk the space it needed.
June H.
// Verified Facebook Review
Our Trainer is Top Notch!
We have learned so much through our basic obedience class!! My once wildly unruly puppy has learned to sit, come to me, sit on place, off for those bad manners like jumping or barking at people and dogs and my favorite, HEEL!! Walk times are now a breeze. We can go on or off the leash and he is right on point! Plus, I no longer have to wrestle a poodle when friends and family come over. Our trainer is top notch! She is kind but firm, very confident and knowledgeable! She was accessible between classes with questions which I greatly appreciated. She has given me the tools and shown me how to use them for a well mannered pup! It was an absolute joy to work with her and watch how she handles Cooper. Everyone here is very friendly and genuinely enjoy what they are doing. I am overjoyed that we found them! They even facilitated our AKC Canine Good Citizen test! I would highly recommend their services!
Aleisha G.
// Verified Google Review
Our Vizsla, Harper, just completed a two week board and train with OLK9. Harper is a very energetic puppy and was a handful before training. I cannot express enough how happy I am with the training she has received. I especially appreciated them sending me photo and video updates and it was exciting to see her progress along the way. I have also sent my Boston Terrier through basic training last year in Knoxville and had excellent results. I am very pleased with Off Leash K9 and will always recommend their services. If you have a dog, I feel you owe it proper training. The good people at Off Leash K9 are simply the best.
Joel L.
// Verified Facebook Review
I have had my girl Dolly, trained at Off Leash K9 Training starting with puppy star class, through basic training, advanced training and finally Service Dog training. The things they have done for us are nothing short of a miracle. They worked with Dolly, my Service Dog, and taught her invaluable tasks, that have literally saved my life! I could never thank you enough…we love you!
Maggie M.
// Verified Google Review
Thank you, Thank you, Thank You!
Words can not explain our appreciation for the training our dog Samson, received from OLK9! We dropped off a 9 month old, unruly, high spirited, play biting, leap up on grandma, Puppy! Two weeks later, after watching daily videos of his progress, we attended a three hour training session to fine tune the skills and incorporate them into our family life, with our New-and-Improved family member! We would recommend with the upmost sincerity, this training course to any family to greatly enhance the self confidence of the dog, and the master. This transformation not only gave us confidence in Samson, but gave Samson confidence in himself. 5 stars for our trainer. 5 stars for Off Leash K9. And 5 stars for Samson (Grandma approved)! Thank you, Thank you, Thank you!
LR 1223
// Verified Facebook Review
Transformed & Well-behaved!
Absolutely love the staff and training at Off Leash K9 Training! Nelson, my now 8 month old Boxer, started classes as a 10 week old puppy in their STAR Puppy Classes and then moved on to his Basic Obedience. Nelson was easily distracted and excited by people and other dogs. They worked with us both during class on controlling his excitement while learning to heel, come, sit, down, etc. I would never have imagined that the puppy that was literally dragging me down the street, jumping on people, and coming only when HE felt like it, could be transformed into the well behaved and well mannered dog he is today. We couldn't have done it without OLK9's help and patience. Thank you and I look forward to coming back for advanced classes real soon.
Mandy B.
// Verified Google Review
do you have questions for us?
Call us for a free consultation today!